Rewild Childhood CPD Days
Posted 04/03/2022 13:03 : By: KayleighHall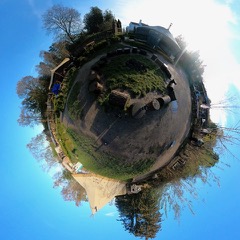 The Children's Garden at Colney Hall is a magical place - for the children who come to share our space with us; for the educators who work here and for the parents and families who have put their trust in us.
Over the past five years we have developed - and continue to do so - a thoughtful pedagogy which brings together the natural world, the image of the child as capable and curious and reflective practice from our Early Years Educators. We are heavily influenced by the child-led, project-based ethos of the early years centres of Reggio Emilia, the Montessori Method and Forest School. But it is the individual child which sits at the heart of our ethos and the natural world which provides much of the inspiration - we call it Rewild Childhood.
Having hosted many visitors on an ad-hoc basis, we are delighted to announce our first Rewild Childhood CPD Day for Early Years Educators of all levels and experience. Saturday May 21st 2022 from 9am to 4pm.
The day will include:
A guided tour of our working environment
TCG's Rewild Childhood ethos overview
Opportunity to talk with and ask questions of our Educators in the different spaces
Lunch in the Walled Garden around the fire
The TCG journey: from concept to reality
What is the positive impact on children and families of our ethos
Deeper exploration of spaces relevant to practitioners
TCG Rewild booklet with photos and examples of provocations to take back to your own setting
The cost of the day is £180 per delegate with an early bird booking discount reducing it to £150 if booked before April 15th. Groups of 4 or more are available at £125 per person.
For more details and to reserve your place please contact our Administrator on 01603 813011 or email rewild@norwich.tcgnursery.co.uk